Even after having an embarrassingly disastrous day on Wuling just a few short weeks prior, I unflinchingly signed up for another of Taiwan's notorious hill climbs. This time I would be participating in the Tataka Hill Climb on the back side of Alishan.
By 4:30am the riders had already started to fill up the sleepy streets of the small town of Shuili in Taiwan's Nantou County. There was a bit of a chill and everyone nervously clacked around on their cleats making unfunny jokes and taking in gels to break the nervousness.
I couldn't decide if a jacket would be overkill or if I would be begging for a layer in a fog bank over Tataka. Having lowered my expectations, I was just happy to be doing a race I had never done before knowing that it might be the last Tataka Hill Climb as the county government would like to take over to funnel money to connected subcontractors. I was finally healthy enough to join T-Mosaic on another campaign.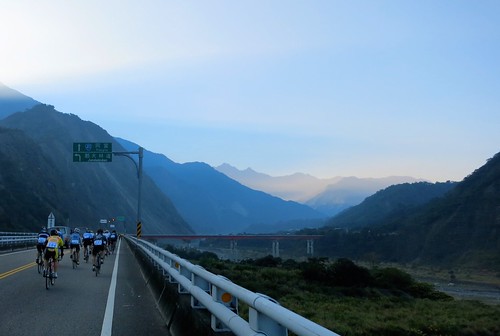 As we all eased out into the road, I was spinning a pretty good gear and found myself at the head of the group that was licking at the heels of the elite riders who had been given the preferential spot on the starting order.
My legs started to burn after about 10min. but I was sure I would warm them up in a half-hour or so and I kept on moving with the pack, occasionally losing riders on every arc along the Highway 21.
With my legs still failing to shake the burn, I eased up a little and let the group pass as I targeted another group that I thought might give me a chance to save some energy.
My legs were still at full burn after two hours amid some magnificent climbs. I hadn't been passed by too many large groups and I hadn't seen my teammates anywhere, so I figured I was still in relatively good position for a decent time.
The road wriggles itself all over the lower reaches of mountain before the first tunnels signal the end is nigh.
Despite trying to claw up in a 39-27 combo, I still mashed my way past several riders on the lower sections.
As I rounded a corner the full, deeply scarred face of the mountain was on full display, menacing riders from above.
On the first of the horrible ramps I just bit down and stepped on the pedals until they turned. My legs were on fire.
I pulled up next to another rider and offered some small talk to take the mind off the pain, but she wasn't amused.
"Three more kilometers left", she said much to my relief. But as she slipped away into the shadows from the trees behind me, there was no sign that the finish was anywhere nearby.
I found I was catching more and more riders with a steady churning of my crank. Finally after four kilometres the first sign showed up, "4km" it read.
I forced myself to keep the legs in a white hot glow for four more kilometres. I kept climbing up a ladder of exhausted riders toward the finish.
As the finish line came into view, I noticed two riders closing in on the finish and I made it my goal to pip them at the line for the cameras.
I blitzed on past just before the line and gave an exaggerated fist pump as if I had actually won the whole thing.... but none of my antics or heroics were caught on camera.
I had finished in a pedestrian 04:19:27. But to a guy who is still greatly out of shape, it was a much better day on the bike. I managed to be second on the team.
The road was an absolute spectacle with clear views of Yushan and other vistas illuminated in the clear morning sunlight.
Lots of fun.